Should You Buy or Rent A House in Calgary?
Buy or Rent is a question that gets asked and analyzed a lot in the Calgary Real Estate Market.
I am a Realtor so I'm obviously biased – Yes You Should Buy A Home – In Fact You Should Buy Many Homes – And You Should Move More Often – You should keep me employed and busy!
Landlords want you to stay as a renter and keep paying the mortgage for them. They want you to take care of the property like you own it. And do not cause any problems with neighbours. Pay the rent on time and hand the keys back to them when you're done with no claim on the property whatsoever.
Banks want you to be a homeowner and rent mortgage money from them. They want you to skip payments, defer payments, renew at posted mortgage rates, pay huge penalties for paying off your mortgage too quickly. They want to make a ton of money off you just like your landlord does.
The money side of the buy or rent analysis misses the huge peace of mind component that comes from being your own landlord. How much is it worth to not have to deal with landlord rules? Do this, do not do That….
If you want an easy answer to the Rent or Buy a Home in Calgary Question, just look at who owns the majority of houses in Calgary today. These people did the research, crunched the numbers, and took into account all the variables of home ownership.
These people can't all be wrong, can they? Most of them took out mortgages well over the low mortgage rates that you can get today. So, they are paying a higher rent on mortgage money than you can get, and they are not selling in a panic because of lower investment costs.
Back to the who owns more property in Calgary. Is it Landlords or Homeowners?
The answer is Homeowners live in over 70% of the homes in Calgary. And I know as a Realtor the 30% that are rentals are owned in a large part by the 70%. Many people own 2 or 3 homes. One to live in and the rest to invest in.
The City of Calgary House Data webpage offers up a lot of detailed home ownership information to help you in your buy or rent decision.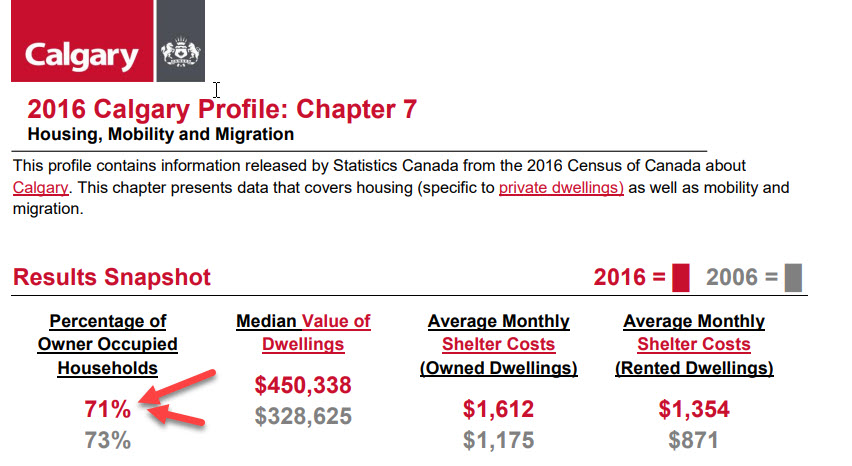 Call Me: Jerry Charlton at 403 831 0842 and I will help you help yourself!